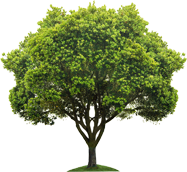 CROWN LIFTING
Crown lifting is the removal of branches that have become a nuisance because they are too low to the ground. They could be hitting vehicles, obstructing pedestrians on footpaths or in the way of grounds maintenance, i.e. grass cutting, etc or a number of other reasons.
CROWN REDUCTION
Crown reduction is the overall reduction of the trees crown sides and top. This may be necessary if a tree is outgrowing a space, it may be taking too much light, blocking a view or encroaching on buildings. This method is not to be confused with topping, which is detrimental to the trees health. Crown reduction carried out correctly involves cutting branches back to a growing point, an area that will heal and continue the life of your tree. Topping is usually random cuts, which soon get infected, and in some cases promotes tree growth, which is not the goal.
CROWN THINNING
Crown thinning is the removal of branches within the crown structure; this is beneficial to the tree as most branches removed are dead, dying, diseased or not necessary. This method allows light to filter through the trees canopy and is useful if a tree is blocking out too much light. It also helps if an area is damp as this allows the wind and air to circulate better
DISMANTLING IN CONFINED SPACES
Sid Valley Tree Surgery are fully trained in the method of dismantling in confined spaces i.e. trees that are over hanging buildings like conservatories, green houses and trees which have poor access. We are able to safely take apart the tree, branch by branch, and lower to the ground without causing any damage to properties or buildings.